Byrne Looby Partners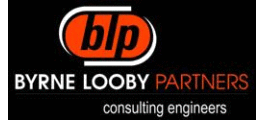 حول Byrne Looby Partners
قطاع الشركة: البناء/الهندسة المدنية
مكان الشركة: قطر
Byrne Looby Partners (BLP) is an international engineering consultancy with an office in Jeddah and a presence in Qatar and Abu Dhabi. We provide advice and design on large scale infrastructure and commercial projects to contractors, consultants, developers and state agencies.

We provide specialised engineering services across a diverse spectrum of built environment, infrastructure construction, hydrocarbon and energy focused industries. The range of services that we provide on a worldwide basis encompasses geotechnical engineering, MEP and Instrumentation Engineering, Telecommunications engineering and water. Commissions include feasibility studies, FEED and detailed designs, construction methodology, engineering procurement and supervision and expert reports using both consultancy and outsourcing models. BLP deliver technical support services and tangible efficiency savings together with innovative solutions, which both meet and exceed our customers' needs.

We employ specialists with outstanding knowledge, insights and experience in engineering projects. Typically we are involved in large infrastructure, building, onshore oil and gas and petrochemical type projects.
فرص الحالية في Byrne Looby Partners
عذراً، ما من متوفرة حالياً في Byrne Looby Partners قم ببحث عام عن Byrne Looby Partners على الإمارات اليوم من أجل إيجاد نتائج أخرى مناسبة.